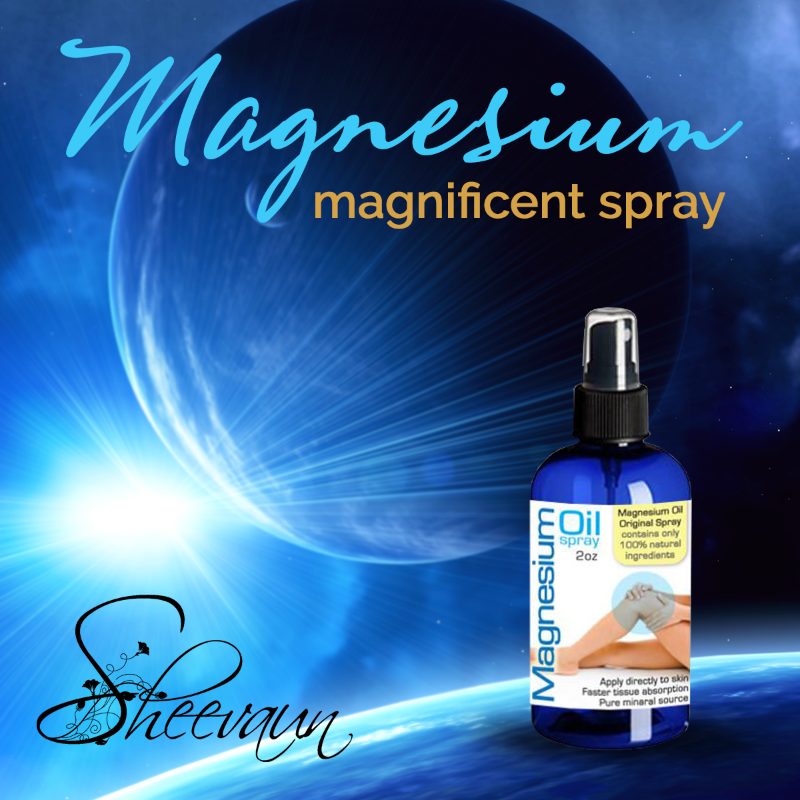 Magnesium Magnificent Oil - 2oz
$ 19.00
FINALLY! All-Natural Relief from
Joint, Neck, Migraine, & Cramp Pain
in Minutes!
 🌎 ✈️  (Ships Anywhere in the World)
THE PUREST MAGNESIUM YOU WILL FIND ON THIS EARTH
IS RIGHT HERE IN THIS BOTTLE. 
Here's what that means…

The magnesium salt used to make this oil spray has been isolated from the impurities of the modern world for 250 million years.
🚫 The lead-acid batteries in our cell phone towers. 
🚫 The fossil fuels used to heat our homes and run our vehicles.
🚫 The mercury in the fish we eat that also pollutes our ocean water.
🚫 The air contaminants from coal-fired power plants we breathe in every day.
🚫 Not to mention the pesticides used on all of our foods. Yes—even organic.
This magnesium HASN'T been exposed to any of the toxins that are now unavoidable in our everyday lives.
Because it's been buried over 6,000 feet beneath 
the Zechstein Seabed in Northern Europe for millennia. (Making it the PUREST you can find!)
Because the body needs magnesium to regenerate and to be taken internally is just not enough. Use this magnesium spray to restore the critical macronutrients for human health and elasticity. It is essential to more than 300 cellular processes, some of which include muscle and nerve function, heart rhythm, and peristalsis.
Helps with:
joint aches and pain
neck pain
carpal tunnel pain
shoulder pain
arthritis
inflammation
soreness
anxiety
stress
adrenal fatigue
bags under eyes
skin rashes
quicker healing of sprains and bone breaks
gray hair
insomnia
Magnesium regulates hundreds of enzyme systems. By regulating enzymes controlling intracellular calcium, magnesium affect blood flow, an important factor in several critical illnesses.
WHAT OTHER BENEFITS CAN YOU EXPERIENCE WHEN YOU USE THIS OIL SPRAY REGULARLY? 
Get sick less often.

Manage stress even while under pressure.

Fall asleep faster and stay asleep deeply. Without those twitching restless legs!

Get fewer headaches & migraines.

Lessen the symptoms of anxiety & depression.

Relieve muscle cramps & spasms.

Reduce chronic pain from fibromyalgia & other sources.

Protect yourself from diseases such as osteoporosis and hypertension.

Heal fatigued adrenals & experience an energy boost!

They have this to say about our magnesium spray:

I use this every time my back goes out and I see the chiropractor much less and the adjustments are much easier. 
When I was in pain with my arthritis I tried everything, even medications, but when I used this spray twice a day for a week my pain in my hands went away. So I started using it for all my joint pain and I have a fraction of the pain that I used to. Thank you!!! ~ Mona Maria
HOW WILL YOU USE THE MAGNESIUM MAGNIFICENT OIL SPRAY?
After you get out of the shower—or whenever your skin is clean and dry…
Simply spray liberally on your torso, legs, and arms.
Then, enjoy the full relaxing effects by massaging (or gently rubbing) it into your skin all over. 
Exhale a big sigh of relief. Ahhhhhhhhhhhhhh. So good.
You can then wipe it off after 20 minutes or just leave it be. Totally up to you!
You can also spray directly on joints and muscles that are sore or in pain.
Repeat 1-2 times per day for maximum benefits.

(Just avoid sensitive areas like eyes. Or anyplace you may have cuts or scabs.)

"Suzie R used it on her face because she wanted younger skin and after about two weeks she noticed that she felt happier and everyone complimented her."
Frequently Asked Questions
>> Where should I apply the Magnesium Magnificent Oil Spray?
Anywhere that you feel achy, sore, or in pain for direct relief. Or all over your skin to experience the other benefits listed above. 
>> Will it make my skin really "oily"?
Nope! This "oil" spray actually isn't oil at all. It's a super-saturated water solution that just happens to look like oil in texture.
It's also called "oil" because it's ESPECIALLY good at absorbing into the skin! 
>> Will it itch or sting?
Some customers with particularly sensitive skin may experience slight tingling and/or irritation because of the highly concentrated formula.
This is NOT harmful.
However, you may choose to simply use less spray the next time you apply it or you can wipe it off after 20 minutes. 
>> Do I have to rinse it off or can I leave it on?
That is completely up to you! 
It's perfectly safe to leave on and go about your day. (Or go straight to bed.)
Your skin will have fully absorbed the magnesium around 20 minutes after applying. So you can choose to wipe it off at that point if you desire.